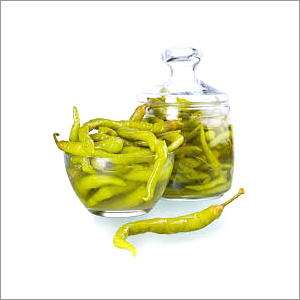 Preserved Green Chilli
Product Code : 28
Product Description
Preserved Green Chilli

Cultivated in Southern part of India, chilies have acquired important place in the list of commercial crops. With having approximately two million tons production of chilies in every year, India is considered as one of the highest producers of chilies. As popularly used spices, chilies serve the purpose of condiments and preservatives in culinary arena. These are also used in preparing pickles. Known for their distinctive pungent taste, these spices are instrumental in improving color and taste of any dish. The standard grade of these spices is determined on the basis of their color and pungency. The well chosen pods that we select from reliable vendors are preserved in brine, vinegar and acetic acid.
Packing Details :
We are engaged in packing of whole red and whole green chilies.

PACKING: Accessible in 115 kg HDPE drum (food grade quality), 15 kg and 10 kg buckets, 240l and 260l barrel. We also pack as per customers' specifications.
Medium: Salt brine, acetic acid and vinegar.
Shipment: We deliver ordered products within 15 days of receiving order.

Uses of chilies :

Chilies are enriched with minerals like potassium, iron, magnesium and vitamins like C and A.
Chili extracts are beneficial for relieving neuralgia, burns, headache and arthritis.
These spices are instrumental in improving immunity function and in lowering cholesterol level.
Useful for treating parasites in gut
Enriched with antioxidants
Beneficial for curing stomach ulcer
Contact Us
179, Mahatma Gandhi Complex, Muni.shopping Center, Nr. New St Stand, Mahuva, Gujarat, 364290, India
Phone :+918068211556